Each solution proposed by Zipmec.eu was conceived with the purpose to boost the members' visibility quickly and cost-effectively, in order to increase the turnover of your fruit and vegetable company and favour trade exchanges.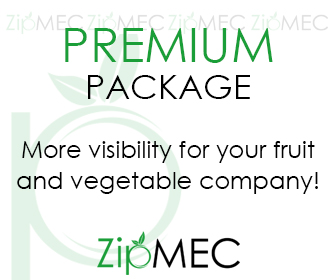 After registering free of charge, Zipmec.eu offers you the possibility to choose among three types of packages: Basic, Premium and Top Company.
The PREMIUM package offers:
Company's data and description, created directly.
Input of the corporate logo*.
Input up to 10 products of your choice.
Possibility to load up to four images and one video*.
Possibility to input the translations of your texts*.
Possibility to receive requests of information for products and services.
Detailed login statistics to your company's sheet.
50 credits for MarketPlace
Zipmec.eu GUARANTEES the number of visits to the sheet of your fruit and vegetable company according to the SATISFIED OR REFUNDED method: the entire contract amount will be refunded to you in case the number of agreed visits has not been reached!
Details on the visits can be monitored directly and easily viewed thanks to the viewing statistics, contact reports and analysis of your sheet.
Is your company not yet present on ZIPMEC? Click here to add it!
An exclusive promotion is reserved to all new members: Zipmec.eu OFFERS you three months of display priority free of charge, thanks to which you can stand out among search results and be more visible to the site visitors! This way your company can appear among the top ones in the list and it will be easier to be contacted by potential new customers!
All of this for only 4.453,00 € (VAT included) per year!
*Data provided by the registered company.